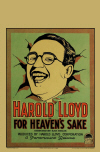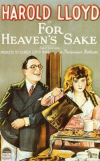 Brother Paul and his daughter, Hope, are poor but kindly missionaries who own a street cart which provides coffee and doughnuts to the derelicts on a downtown street. Uptown, J. Harold Manners has bought a new car to match his white pants. James, Harold's chauffeur, swerves to avoid what he thinks is a live animal (it's the picture of a cat on a box in the street), and smashes head-on into a truck. Manners dismisses James, and walks into a car showroom, where he plucks down a check for $9,000 for the most ornate car available.
As he rounds the corner in his second new car of the day, police commission him to help chase down some criminals. As the bullets fly, the car runs out of gas, and conks out—upon train tracks. As Harold bends to crank the car back to life, a train speeds the car out of sight, leaving Harold holding a most lonely crank. He grabs his coat, and a light for his smoke, out of the wreckage of his former luxury auto, and walks home.
Meanwhile, Hope reads in the paper of the wealthy Manners, and decides to write to him, asking for a donation to her father's mission. The letter arrives, but Manners' secretary throws it away.
Later, Harold is downtown, looking for the Grotto Cafe, and happens into a pool hall to ask for directions. On his way, he lights a cigarette, tosses the match mindlessly, and ignites Brother Paul's coffee cart. Harold wants to reimburse for the loss, and asks, "How much?" Brother Paul, thinking he wants to help build the mission, answers $1,000. Hope sees the check, and believes that Manners has answered her request for help. The money goes towards a permanent new home for "The J. Harold Manners Mission."
When he reads of his religious philanthropy in the paper, Harold is incensed, and heads back downtown to protest. Hope, seeing him tearing down the mission sign (but not knowing who he is), reprimands him heartily—Harold falls instantly in love with her spirit and spunk. He is invited to tour the mission, responding, "Very pretty" to everything Hope shows him. The pomposity of J. Harold Manners' personality has now taken a 180-degree turn for the better, and he now helps Hope in the mission. Hope is distressed, however, because none of the neighborhood mugs ever attend the services, so Harold offers to help round them up. After coming up empty at the pool hall, Harold devises an ingenious plan to have the thugs chase him to the mission: on the street, he will anger a rough-looking man, who will chase him. On the way, Manners will step on some other bum's foot, or kick another tough in the rear, and they will join in the chase. Eventually, all the thugs in town are chasing Harold, who ducks into the mission, followed by all the toughs. Once there, they all scoff, but when they learn that the cops are outside, they fight for the hymnals. In time, the rough guys soften and, with Harold's help, begin to be rehabilitated, getting jobs, and living cleaner lives. Hope is grateful, love is soon flowering for her and Harold, and a marriage is planned.
Later, a newspaper headline reads, "Millionaire Clubman to Marry Mission Worker." His pals at the country club, certain it must be an error, plot to save Harold by kidnapping him. The wedding reception committee, comprised of five mugs in tuxedos, hear one of Harold's kidnappers yell that the wedding is off—dejected, feeling foolish for having accepted Harold, they decide to have a few drinks to calm down. They become hopelessly inebriated, and later decide to rescue Harold, but arrive at the club in a drunken stupor—they are tackled by the elegant clubmen, but are victorious in rescuing their Mr. Manners. Harold calls a worried Hope: "I was kidnapped, Honey, and may be a little late."
It is a real struggle to get the drunken hobos back to the mission—Harold resembles a man walking five big dogs—they travel on a trolley, a double-decker bus, and finally a dog wagon, but they finally do arrive. Harold and Hope are married, with Harold absentmindedly slipping Hope's ring on a puppy's tail.
Notes
The reviews of For Heaven's Sake were uniformly good: The Film Daily, in its April 11, 1926, issue, wrote, "Here's Lloyd in another that looks mighty sweet for the box-office. Funny gags, snappy tempo, and a minimum of footage. All mean for a money-maker." The critique in the April 19, 1926, issue of Time was, in a roundabout way, a high compliment: "Mr. Lloyd has done better pictures; there are only three or four comedians that could possibly do as good a one as this."
In August 1916, Harold celebrated the completion of his first year of the Lonesome Luke comedies by buying a new car for $1,250. That same day, driving the car for the first time, he ran it up a tree, totaling it. That night, he sold the wreckage for $100. This event was a sure influence on the beginning of For Heaven's Sake.
This was the fourth most popular film of 1926, In his character of J. Harold Manners, Lloyd appeared on the cover of the April 1, 1926, issue of Balaban & Katz magazine, a Paramount house organ. The film grossed $2,591,460. Some of the location sequences were shot on the grounds of the Hotel Ambassador in Los Angeles. The famed natatorium of the hotel furnished the beautiful interior shots.
Though a silent feature, there were many songs featured in For Heaven's Sake. `Just Break the News to Mother," "Onward Christian Soldiers," "I'm Falling in Love with Someone," and "Sweet Adeline"—all were made known through shots of sheet music and titles, mostly inside the mission. An original song was inspired by the film, "For Heaven's Sake," lyrics by Al Bryan and music by Hugo Frey, © 1926 by Robbins-Engel, Inc.
Paramount's press kit for the film included certificates, personally autographed by Harold, for inclusion in "The For Heaven's Sake Club." Members "pledged to help those who cannot help themselves and to do a good turn whenever occasion rises."
The naming of this film was a challenge for Lloyd and company, but was finally decided out of sheer luck. As was procedure, the gag men and Harold were pow-wowing, trying to come up with a title for this new picture. Finally, one exasperated member of the group threw his hands up in the air and cried, "Oh, for Heaven's sake!" Harold chose For Heaven's Sake right then and there, particularly since, among others, that was one of his favorite catch phrases.
The climactic chase scene featured a thrilling ride on a double-decker open-top bus. There were no process shots used; the bus was built on top of a truck, on rollers. It swayed quite violently, yet safely. Noah Young, who in that sequence did a drunken tightrope walk on the bus railing was, actually, braced onto the bus by one leg, so there was no real danger.
For Heaven's Sake, at six reels, was the last feature under eight reels that Lloyd would star in (actually, the film was originally seven reels in length, but was cut by a reel after previews were disappointing). This was also the final film in which Harold's character was rich.