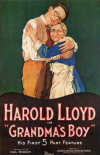 The setting is Blossom Bend, and we are introduced to Sonny, a meek young man, at 19, "the boldest thing he ever did was sing out loud in church." Sonny and his girl, Mildred, are making ice cream as a surprise for her Ma. The bully moves in, intimidates Sonny, and finally throws our Boy down a well. Sonny's "Never Shrink Brand" suit, he learns, does not live up to its name: he walks home ( "mostly uphill, and no shade" ) with shirt cuffs and socks boldly showing. Granny believes in Sonny, even if he does not. She encourages him to throw the town tramp, The Rolling Stone, out of their yard, but Sonny can't do it—Granny does.

That night, Mildred is hosting a party at her house, and Sonny (having ruined his only suit) must wear his Granddaddy's outfit—he arrives at her house "dressed strictly up to date—for the Spring of 1862." Upon finding mothballs in his suit, he sneaks them into a candy box: both Sonny and the bully wind up eating them.

Later that evening, a posse arrives at the house, announcing a search for the tramp, who is wreaking havoc in town. Sonny unwillingly becomes a member of the posse, but cowardice chases him home, and under his sheets. Granny seizes the opportunity to tell Sonny a Civil War story about his Granddaddy, who was also a coward...until he was presented with a magic talisman, the Charm of Zuni, which gave him courage. Granny just happened to have that very charm, and gave it to Sonny.

Armed with a new-found courage, Sonny single-handedly captures the tramp, and wins the admiration of the town. The only thing left to do, with this courage of a lion, is to whip the bully. After he gives the bully his comeuppance, Granny reveals that the charm was nothing more than an umbrella handle: "There was no charm, Sonny; it was all you. Granny knew her real boy better than he knew himself." After this revelation, Sonny thought of just one more thing to do: propose to Mildred. At first he thought he needed the charm to stand up to her, but then threw it away, heeding his Granny's words. Sans talisman, he proposed to his coquette: "Do you love me? " Yes. "WILL YOU MARRY ME?" Yes.

"RIGHT NOW?" Yes. Sonny carries her off to a wonderful new life.


Notes
The reviews for this film stand as a testament to its importance in its day. The New York Morning Telegraph reviewed the film on September 10, 1922: "...A monument ought to be erected to the man who put the Lloyd in celluloid." The Moving Picture World,

on August 12, 1922: "...The best picture Harold Lloyd ever made. The comedian's first fling in the five-reel comedy field is a tremendous success." Variety, from June 16, 1922: "It is a knockout, clean at all times, and composed of truly funny situations. It is Harold Lloyd's best."

This picture had two working titles:

The White Feather and He Who Hesitates. Said Lloyd, in a January 1959 interview: "We started it as a two-reeler, but it had a strength to it that we just couldn't keep it at two reels...it developed into a five-reeler, which was really our first true feature picture." (The word " true " is key here, for, in those days, anything four reels or more in length was considered a feature.) The film cost $86,012.38 to shoot, and grossed $975,623.

Diana Serra Cary was a child actress in the silent film era, known as Baby Peggy to millions of fans. According to her autobiographical hook Whatever Happened to Baby Peggy?, in 1922, the Baby Peggy film, Grandma's Girl, a satire of Lloyd ' s Grandma's Boy, was canceled after she got pneumonia, then the director had a breakdown, and finally there was a fire at the studio.

From the Roach production logs: "Mr. Lloyd left for New York on Monday, December 2, but the Lloyd staff is held intact except Jean Havez. Those people not otherwise engaged will be charged against the Lloyd picture for this week as they are doing what the condition of the weather will allow them to do to continue with the picture." Roach, Lloyd, and Mildred Davis arrived back from New York on January 24, 1922, a Tuesday, and was back at work on Thursday, January 26. Exteriors and story work were done while he was gone. And, Harold was out sick from February 20 to 26. Most of the film was shot at Hal Roach Studios, Culver City, CA.

Grandma 's Boy was the only comedy named to the list of Top Ten Pictures of 1922 in Film Year Book (it was number two). In addition, it was among the Top 40 Best Pictures of the Year by the National Board of Review.

President Warren G. Harding, careworn over strikes in the coal mining and railroad industries at the time, saw Grandma 's Boy on Thursday, August 10, 1922. According to The Denver Post: "For an hour the President forgot the momentous cares of his office and almost rolled out of his chair with hilarious laughter. He came out of the show, saying he felt more refreshed than he had for three weeks. Harold Lloyd ' s new comedy, Grandma's Boy, was the 'medicine' that brought sunshine hack to the President's countenance. It was administered, upon the urgent request of the President's private physician, after every other remedy had failed."

The sheet music for the film, "Grandma's Boy," had lyrics co-written by Jean Havez, who contributed to the film's screenplay. Grandma's Boy was the first of three consecutive films which costarred the lovely Anna Townsend. It was also, along with Safety Last!, The Freshman, and The Kid Brother, among the quartet of Harold's favorites of his films.