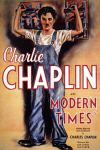 Charlie is caught up in the machine age. He is a factory worker whose job is to tighten bolts on a moving belt. Charlie and a co-worker (Chester Conklin) get caught in a huge machine while oiling it, but after passing safely through its wheels, they are set on the ground once again. Charlie is chosen to test a new machine which will feed lunch to a worker in a short period of time. But the various feeding mechanisms on the machine go haywire, all except the mouth-wiper which always seems to work. Charlie is extricated from the machine and put back to work. His routine, mechanical job unbalances his mind and he runs amuck with a wrench intending to tighten anything round. When he chases a woman with big round buttons on her dress down the street, he is arrested and placed in a mental hospital.
When he is released, he finally succeeds in getting a job, but he has worked only a few hours when a strike is called. He is mistaken for the leader of a mob demonstrating in the street when lie picks up a red flag which has fallen from a truck. He is carted off to jail, where he finds his burly cellmate knitting. He is somewhat disconcerted by this. When he prevents a jailbreak, however, he is rewarded with a private cell and is treated royally. He is pardoned, but longs for the security of his jail cell when he finds that life on the outside is far from easy.
A young orphan girl (Paulette Goddard), who has fled from her waterfront home to avoid being placed in an orphanage, is arrested for stealing some food. When Charlie sees this, he tells the policeman that he did it, hoping that he will be put back in jail. When he fails to convince the policeman, he goes into a café, orders a huge meal, and then says he cannot pay for it. He is arrested and placed in the same police wagon as the young girl. She breaks out of it and takes Charlie with her, although he goes unwillingly.
Charlie gets a job in a department store as a night watchman. He lets the girl have the run of the store while he is on duty. Thieves enter one night, but when Charlie recognizes them as his former co-workers in the factory, out of work and money, he joins them in a party at the expense of the store. Morning comes, and the jig is up. Charlie winds up back behind the bars.


The girl finds a job as a cabaret dancer while Charlie is in jail. When he is released she sees to it that he finds a job as a waiter in the same place, Charlie is not too successful serving food, but he is a big success as a singing waiter. His happiness, however, is short-lived. Police officers arrive, looking for the orphan, and Charlie and the girl are forced to flee. When they are safe on the road, they talk about having a better life some day, and decide to trust in the future.
The first subtitle of the film reads: "Modern Times is a story of industry, of individual enterprise―of humanity crusading in pursuit of happiness." It was Chaplin's last film without dialogue. It did have sound effects in certain scenes, and Chaplin's voice was heard when he sang a little ditty to the tune of "Titina" in his singing waiter sequence. As in City Lights, his own musical score was used in place of dialogue to bring out the mood of each scene. Dr. Cecil Reynolds, Chaplin's friend and physician, played the bit role of a minister visiting the prison.
At the end of Modern Times we see Charlie walking toward the horizon as he had done in many other films. But this time he was not alone. He had the little waif whom he called "the gamin" as his companion, and he held her hand lovingly. "We'll get along," they told each other, and they made us believe they would. No one realized it at the time, but in that moment of hopefulness we were seeing Charlie the Little Tramp for the last time. There were to be moments in The Great Dictator when the little Jewish barber was to remind us of the Charlie we used to know, then the image faded and disappeared. Only the old films remained, but in them the Little Tramp would always live. He would be skating on the rink, eating the watermelon, examining the alarm clock, dining on his shoe, dancing with the nymphs, rescuing Edna, and walking down the lonesome road as long as film endured.
What was said about Modern Times:


New York Post (reviewed by Thornton Delehanty)
"The gorgeous spoofing, the annihilating inventiveness of the comedy, comes from Chaplin rather than from his material. The picture is a brilliant succession of gags and stunts, strung together on the priceless tradition of Chaplin himself. His story is not so much a satiric thrust at the machine age as it is an employment of machinery as a field for comedy...There is no doubt that Modern Times is the season's motion picture event."
The New York Times (reviewed by Frank S. Nugent)
"Sociological concept? Maybe. But a rousing, rib-tickling, gag-bestrewn jest for all that and in the best Chaplin manner...This morning there is good news. Chaplin is back again."
New York Evening Journal (reviewed by Rose Pelswick)
"It's curious, these days, to see the lips of actors move and to hear no sound, but the lack of talk is almost unnoticed whenever the picture resolves itself into characteristic Chaplin slapstick and mimicry. And Modern Times is, for the most part, fast-moving and frequently hilarious action."
New York Daily News (reviewed by Kate Cameron)
"There is nothing new about Modern Times except the title. All the old gags are brought out and dusted off for use. But they are such good old standbys that they still earn laughs. Chaplin has stuck to his traditional way of making comedies by working strictly in pantomime himself and by having most of his cast follow suit."
New York Herald Tribune (reviewed by Richard Watts, Jr.)
"The cinema's First Immortal returns to us after an absence of almost five years in a comedy for fun-lovers, egalitarians and philosophers."