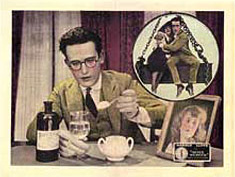 Harold and Mildred are in love-workers in neighboring offices, and newly engaged. Mildred's boss, a doctor, can no longer afford to keep her on payroll: no patients.
Harold, on his way to her office, meets and talks with an acrobat, but then learns of Mildred's misfortune. He promises to return with patients, much to her glee. He plots with the acrobat to fall on cue in front of passersby on the street, only to have Harold "cure" him right then and there, whilst giving out the doctor's business card to the thrilled throngs. Mildred's office is soon filled, but, Harold has gotten the attention of a policeman, who
is suspicious.
Harold's day is soon to take a turn: as he later enters Mildred's office, he views her in an embrace with another man, who says, "Bless your dear heart, I'm ready at last—I'll marry you whenever you say the word." Harold is dejected—all the while, unaware that this man is Mildred's brother, a newly ordained minister. Our boy is determined to do away with himself, after reading a newspaper account of dejected lovers taking the suicide route. He tries—via poison (tastes awful!), stabbing (blood!), jumping out the window (vertigo!), and gas (smells bad)—and each attempt fails miserably.
However, for one so attuned to dying, he takes great care in writing his suicide note to Mildred, seemingly more concerned with the spelling of sepulcher, and the proximity of the note to "the body" than anything else: "Dearest Mildred, My life would be like a hollow sepulcher without you. Farewell, Harold."
Harold finally chooses a gun as his method du minute: he rigs a revolver trigger to the office door, then calls for the janitor. Blindfolded, he awaits his pending doom. Outside, a construction crew is losing control of a runaway girder, held up by ropes. A gust of wind flows into Harold's window, causing a light bulb to fall onto the floor. Hearing the "blast," Harold faints dead away.
Meanwhile, the girder, with a definite mind of its own, travels into Harold's window, and under his chair, carrying it up and out the window. Outside, suspended in mid-air, and stories above the street, Harold hears harp music (from a music school), peeks from his blindfold and sees an angel (a statue on the building), and thinks he is in Heaven. Once he hears a jazz band on the street below, he realizes the pickle he's in. Now with an "I don't want to die!" attitude, he hangs onto the chair as it is carried onto the shell of a building under construction. He manages not to fall off—barely—and in a dizzy tizzy, reaches terra firma via a freight elevator. There, he meets Mildred, who introduces Harold to her minister brother, who will officiate at their marriage.