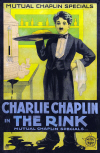 Charlie is a waiter in a restaurant and makes out the check of Mr. Stout by examining what that hot-tempered gentleman has spilled on his suit. But if Charlie is inept and clumsy as a waiter, he lives another life as Sir Cecil Seltzer, the graceful skater at a nearby rink. He meets a girl there and saves her from the unwelcome attentions of Mr. Stout―who turns out to be hot-blooded as well as hot-tempered. The girl invites Charlie, or Sir Cecil, to her skating party. He makes the grand entrance in top hat and tails, but again locks horns with Mr. Stout. He also falls on top of the formidable Mrs. Stout, but his gallantry does not fail: he modestly pulls down her skirt. The party has now turned into a riot on roller skates. The cops make a raid and Charlie escapes, skating away with his cane hooked to an automobile.
Chaplin's ability as a skater came as a surprise to his fans. But he had once played in a Karno act called Skating, in which he displayed both grace and a fiendish skill in falling, and in causing all of the other skaters to fall as well.
What was said about The Rink:

Variety
"There is plenty of fun provided by him (Chaplin) on the rollers and he displayed a surprising cleverness on them. A number of funny falls occurred as was looked for, with Charlie outshining and outwitting any of the others on the floor. When he couldn't trip the "big guy" who was attempting to cop his girl, he used his old standby, the bamboo cane. All in all The Rink averages up well with the best work he has done for the Mutual."
Moving Picture World (reviewed by Louis Reeves Harrison)
"Chaplin at the rink is amusing enough, but such a vast amount of material is needed to keep a swift farce constantly on the move that this one opens up with the almost outworn business of an awkward waiter who creates almost endless confusion in both restaurant and kitchen...While Chaplin works hard and seems to stand the strain of being funny, an awful strain in its way, he is not given much new opportunity. A man of his resources could fit into hundreds of roles never before shown upon the screen, be even more amusing than he is and provide a greater variety of program."