| | |
| --- | --- |
| ROOM SERVICE | |
RKO, 1938. Directed by William A. Seiter. Camera: J. Roy Hunt. With Groucho Marx, Chico Marx, Harpo Marx, Lucille Ball, Ann Miller, Frank Albertson, Cliff Dunstan, Donald McBride, Philip Loeb, Philip Wood, Alexander Asro, Charles Halton, Stanley Blystone, Phoebe Campbell, Clyde Courtright, Josephine DeKarr, Eddie Dunn, Paul Everton, Cliff Herd, Donald Kerr, Bruce Mitchell, Frank Otto, Tom Quinn, Constantine Romanoff, William Ruhl, Eddie Saunders, Willard St. Claire, Jean Stevens, Max Wagner.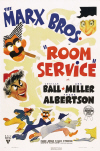 Room Service is an unusual picture for the Marx Brothers, as it contains no musical numbers (unless you count the occasional warbling of "Swing Low Sweet Chariot" during the various death scenes).
Room Service is unique for other reasons as well. It was the only picture the brothers did for RKO, making it while they were under contract to MGM. It is also the only film that wasn't written specifically for them. As a matter of fact, the movie was taken from a successful play at the suggestion of Zeppo, and tailored by the ever-present Morrie Ryskind (who had to invent a part for Harpo) for the Marxes. This movie was remade as a musical called Step Lively in 1944, starring Frank Sinatra.
In this picture Groucho plays Gordon Miller, a producer who is trying to con a certain hotel (managed by his brother-in-law) into letting himself and his entire cast stay on credit until he gets backing for his upcoming production, "Hail and Farewell." He is aided in this escapade by Banelli (Chico) and Faker (Harpo). Banelli's connection to the play is never really brought out, but we know that Faker is in the cast, playing a miner, since he's often seen wearing a miner's hat, torch included.
The plot thickens as the author of the play, Leo Davis (Frank Albertson), shows up from Oswego to see how the production is going. While he's not looking, Banelli, Faker, and Miller steal various possessions from him to hock so they can get some food. When the food finally does arrive, it makes for the funniest scene in the film.
While Lucille Ball and Ann Miller are listed above Albertson in the cast list, they actually have very minor roles and add little to the movie. This picture is almost pure Marx Brothers entertainment, attesting to the ability of Morrie Ryskind in adapting the script for the boys. Even given the fact that the Marxes were forced into a more traditional play format for this movie, it is still highly entertaining.
| | | | | | |
| --- | --- | --- | --- | --- | --- |
| | | | | | |
Poster artwork courtesy of Rikke