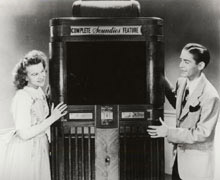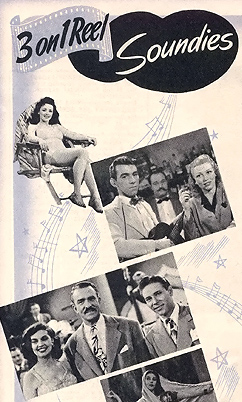 Soundies can be considered the precursors to music videos. Produced generally during the years 1940 to 1946, Soundies were made to be seen on self-contained, coin-operated, 16mm rear-projection machines called Panorams. They were located in nightclubs, bars, restaurants and other public places. Eight Soundies, featuring a variety of musical performances, were generally spliced together on a reel which ran in a continuous loop. The Panoram, a complicated and unique machine, later served as the basis for the RCA 16mm projector.
Soundies were produced by various companies such as Minoco and RCM Productions, headed by FDR's son James Roosevelt, Sam Coslow a song writer and Herbert Mills, a pioneer in the development of arcade music machines. In order to achieve the widest possible distribution, Soundies covered the gamut of musical styles from country and western to Russian balalaika music, tenors singing Irish folksongs, the big band swing music of Stan Kenton and Tommy Dorsey and jazz Greats, Fats Waller, Count Basie, Duke Ellington and Nat King Cole.
A Soundie reel sometimes included cheesecake segments—striptease, burlesque routines or shots of women in bathing suits—specifically intended to attract wartime military personnel on leave. Appeals for war bonds and other patriotic messages were included. Soundies often starred little known performers who later became famous, such as Alan Ladd, Cyd Charisse, Doris Day and Ricardo Montalban, as well as performers on their way down. Many African-American performers like Dorothy Dandridge, Louis Armstrong and Stepin Fetchit, who were largely absent from mainstream films except in minor roles, were featured.
Enjoy these full-length Soundies!
A Jazz Etude
Billy Burt dances to a jazz piano accompaniment

A Little Robin Told Me So
Enjoy The Three Canadian Capers' singing

Afro Mood Burlesque
A wild dance burlesque short starring Amalia Aguilar

Beyond the Blue Horizon
Performed by the talented and lively group, The Three Suns

Casanova
A guy and a girl singing, with some dancing thrown in

Chime Bells
Rosalie Allen yodels to her sailor boyfriend who is overseas during the war

Daddy
The Bobby Troup trio and Virginia Maxey perform a light and breezy rendition

Fiesta
Early 1940's music with a Latin flair

Gags and Gals
Great gals singing and dancing in a variety of outfits and locales

Got to be This or That
Emil Coleman and His Orchestra, with vocal by June Barton

Havana-Madrid Show
Shake, shake, shake Señora! Latin rhythms aplenty, featuring Maya's Pan-American Orchestra

Hawaiian Hula Song
Hula action, with singing, dancing, and guitar

Heaven Help a Sailor on a Night Like This
An older, experienced sailor meets two young recruits in a bar with lots of female dancers

Hollywood Boogie
An exuberant boogie with Thelma White and Her All-Girl Orchestra

The Hut Sut Song
The King's Men singing a silly, fun song!

I Can't Give You Anything But Love
Ray Bloch and His Orchestra, featuring vocalist Carolyn Marsh

I Don't Want to Walk Without You
Featuring Kay Lorraine, Merle Pitt's Five Shades of Blue, and Frank Wilcox as the porter

In a Shanty in Old Shanty Town
Johnny Long and his orchestra performing one of their big hits

Jiveroo
Harry Day and Della and the June Taylor Girls

The Lamp of Memory
Entertaining Latin music with a young Yvonne De Carlo

Lullaby of Broadway
Late 1940s rendition, featuring the vocal group The Mel-Tones

Mexican Hat Dance
A Mexican mariachi singer sings a lovely song to a pretty senorita

Once in Awhile
Two singers in a very popular early 1940's song (also see You Can't Marry Ten Pretty Girls)

One Look at You
Del Casino and his orchestra, with a popular song of the 1940's

Our Teacher
Sung by the king of the one-liners, Henny Youngman

Rambling Wreck From Georgia Tech
The Gordonairs of Fred Waring's Pennsylvanians and The University Chorus perform this famous party song

Reg Kehoe and His Marimba Queens
An amazing short by an "orchestra" of vibraphone players, with a kick-ass bass player!

Row, Row, Row
Clever version of the song from the 1912 Ziegfeld Follies

Same Old Story
The catchy tune is played by duo pianists, with an unknown singer

Skip to My Lou
The Martins quartette do a little song and dance to the title tune.

Stardust
Harry Cool, backed by the June Taylor Dancers, performs this Hoagy Carmichael standard

Surrender
A guy singing to his girl on the beach, with piano accompaniment

Sweet Sue (Just You)
Dancing girls in short skirts, featuring Six Hits and a Miss and the all-women Lorraine Page Orchestra

Ten Pretty Girls
Anonymous band with a cute vocalist who belts out "Ten Pretty Girls" and "I'll Make You Mine"

Three Magic Words
Three singing butchers extol the virtues of (gulp!)...pork to an overwrought customer

Tica Ti Tica Ta
Latin musical number featuring Ginger Harmon and the Mercer Brothers

What This Country Needs
Featuring the Singing Powers Models, with Jimmie Dodd

Who's Yehudi?
Lane Truesdale jiggles her way through this musical number

Zig Me Baby With a Gentle Zag
Boogie woogie singing and dancing featuring Gai Moran and Danny Hocktor