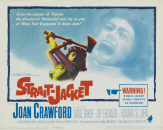 Lucy Harbin (Joan Crawford) is released from a hospital for the criminally insane after twenty years and is reunited with her now-grown daughter, Carol (Diane Baker), who lives with Bill Cutler (Leif Erickson) and his wife, Emily (Rochelle Hudson).
Two decades before, Lucy had discovered her young husband and his lady-love of the moment in bed together, and in a rage had hacked them to death with an axe. The crime had been witnessed by Carol, then only three years old. A note of uneasiness and foreboding is struck as soon as Lucy comes home from the hospital. For one thing, Carol wants Lucy to stop dressing in a drab, middle-aged fashion and begin wearing glamorous black wigs and tight-fitting frocks and making like the woman she once was. Lucy feels Carol is trying to brighten her morale by suggesting more youthful apparel, and assumes the manners, appearance, and dress of a woman twenty years younger, with sometimes disconcerting results.
A series of incidents reveal that Lucy is still far from well. For one thing, she makes brazen romantic passes at her daughter's handsome young fiancée, Michael Fields (John Anthony Hayes), and when she is taken to visit Michael's snobbish and cautious parents, Mrs. Fields (Edith Atwater) angers Lucy, who goes into a tantrum.
A series of axe murders begins, including that of Leo Krause, the hired man (George Kennedy). Meanwhile a doctor from the hospital (Mitchell Cox) has looked in on Lucy from time to time and is not satisfied with her progress. Everything seems to point to Lucy as the axe murderess, but at the end it is Carol who is revealed as the killer. Her three-year-old mind, long years before, had registered the murder of her father and his mistress by her mother with a clarity and vividness that in time became pathological, and a saddened Lucy is forced to realize that that long-ago event has made her pathetic daughter a hopeless psychotic.
What was said about Strait-Jacket: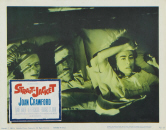 Time Magazine
"It must also be the first horror film able to boast that one of its diehard victims (Mitchell Cox) is a real life Vice President of the Pepsi-Cola Company. As for Pepsi-Cola Board Member Crawford, she plainly plays her mad scenes For Those Who Think Jung."
Variety
"Miss Crawford does well by her role, delivering an animated performance."
New York Herald Tribune (Judith Crist)
"Strait-Jacket should be subtitled What Ever Happened to Baby Monster? and there's a clue for you. (It) proves that lightning does not strike twice and that it's time to get Joan Crawford out of those housedress horror B movies and back into haute couture. Miss Crawford, you see, is high class. Too high class to withstand in mufti the banality of Robert Bloch's script, cheap-jack production, inept and/or vacuous supporting players and direction better suited to the mist-and-cobweb idiocies of the Karloff school of suspense. These make a disappointing, low-level melodrama of this madness-and-murder tale that might have been a thriller, given Class A treatment...Miss Crawford is without peer when it comes to diffident neuroses, valiant ears, and prideful motherhood, and she's awfully good to look at even in her gray-haired, disheveled, fresh-from-the-asylum drabness. But what she does need here is a peer or two to sustain the credibility of the build-up as well as the final twist."
Daily News
"The star is hampered by a script riddled with clichés."
Films in Review (Elaine Rothschild)
"I must say I am full of admiration for Joan Crawford, for even in drek [sic] like this she gives a performance.