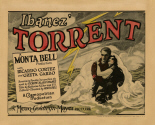 Leonora Moreno and Rafael Brull have grown up together in the same Spanish village. Although they are in love, he is from an aristocratic family and dominated by his mother. His mother talks over the matter with Leonora's mother and they decide to break up the two lovers. Leonora is sent to Paris, while Rafael becomes engaged to Remedios, his mother's choice.
Leonora becomes a famous prima donna and returns to visit her home. She and Rafael meet again and their love is rekindled. His mother separates them again, and he marries Remedios.
Years later, they meet and part. She is still beautiful but he has become middle-aged. He returns to his wife and family, while Leonora goes on with her career.
This was Garbo's fourth film and her first in Hollywood. MGM was to make all her future vehicles. Photographer William Daniels was to be assigned to work on almost all her movies. This was Ricardo Cortez's only role opposite Garbo.
What the critics said about The Torrent:
New York Herald Tribune (Richard Watts, Jr.)
She seems an excellent and attractive actress with a surprising propensity for looking like Carol Dempster, Norma Talmadge, ZaSu Pitts, and Gloria Swanson in turn. That does not mean she lacks a manner of her own, however.


Motion Picture (Laurence Reid)
Probably the most important feature of the film is the latest Greta from Sweden. This is the Greta Garbo, a pretty, wistful, and intensely feminine young person, who suggests a composite picture of a dozen of our best-known stars. Making her debut in the film, she registers a complete success. She is not so much an actress as she is endowed with individuality and magnetism.
Pictures
In the simplest diction possible, we wish to say that among the many who have been hailed as the "finds" of the year, Greta Garbo stands head of the line, in our opinion. She possesses that which has heretofore only been laid at the door of Pola Negri
—fire, animation, abandon and all of the other adjectives usually employed to describe a very colorful figure and personality to match. Moreover Greta has a delightfully youthful figure and a face that is strangely attractive, though not at all beautiful. As the prima donna life gave to and took from as it chose, Miss Garbo, if one can judge by an audience's response, made a very impressive cinema debut in America.
Variety
Greta Garbo, making her American debut as a screen star, might just as well be hailed right here as the find of the year. This girl has everything, with looks, acting ability, and personality. When one is a Scandinavian and can put over a Latin characterization with sufficient power to make it most convincing, need there be any more said regarding her ability? She makes Torrent worth while...There are other "names" in the cast, and, although veterans, they could not overshadow Greta Garbo. Hail this girl,
for she'll get over.