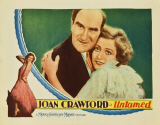 "Bingo" (Joan Crawford), the daughter of an oil operator, has been brought up in the wilds of South America and knows little of civilized ways. When her father is killed, she finds herself an oil heiress, worth millions. Her guardians, rough-and-ready prospectors Ben Murchison (Ernest Torrence) and Howard Presley (Holmes Herbert), decide that their wild young charge needs some polish, and they take her to New York where she can get the background and seasoning suitable to her position in the world.
On shipboard, she falls in love with Andy (Robert Montgomery), a sleek, charming, and refined young man with everything to recommend him but money. Andy shortly returns Bingo's love, but his pride forces him to renege at marriage, since he feels he cannot live on her money. Ben and Howard do not approve of Andy and try to discourage his and Bingo's love affair.
Once let loose in New York, Bingo justifies her nickname by socking in the jaw everyone who rubs her the wrong way. This creates problems for her guardians. Bingo's wild, impulsive, uncivilized ways shock New York society, though some tolerate her because of her money. Bingo continues to pursue Andy, who fights his love for her.
Finally, Andy decides to solve the conflict by running off with another girl, Marjory (Gwen Lee). Whereupon Bingo, enraged by jealousy and frustration, reverts to her jungle ways again and shoots him in the arm. This seems to resolve matters: Bingo and Andy reconcile and make plans to be married. Ben drops his opposition to Andy as a husband for Bingo, and offers the boy a job with the oil company. Andy decides that love must take precedence over pride, and accepts.
What was said about Untamed:
The New York Star (George E. Bradley)
"(Miss Crawford) sings appealingly, dances thrillingly as usual; her voice is alluring and her dramatic efforts in the difficult role she portrays are at all time convincing."
The Brooklyn Eagle
"If Untamed does little else for Miss Crawford, it proves that she is an actress for whom the microphone should hold no fear. Her diction is clear and unaffected, and while there is nothing in the lines that offers her opportunity for exceptional acting, she manages to make the impulsive heroine of the story somewhat more credible than the part deserves."
The New York Morning Telegraph (Pierre de Rohan)
"Miss Crawford seems more than a little ill-at-ease in the trappings of a jungle hoyden and only slightly more comfortable in the equally alien antics of a Manhattan debutante. She never, therefore, makes her role seem real and I doubt whether any other actress could."
Photoplay (James R. Quirk)
"Just a little jungle flower getting wilder every hour. When Joan Crawford strikes oil in one of those Latin American republics she moves into a mansion and falls in love with a young engineer. He won't marry her on account of her money, so she shoots him. Then he says yes. Joan gives a grand performance. Robert Montgomery, the hero, is in for a load of fan mail."