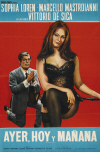 When the Naples police come to arrest the beautiful Adelina for selling contraband cigarettes, her unemployed husband, Carmine, discovers a legal loophole stating that no pregnant woman can be jailed until 6 months after her child is born. The plan works so well that Adelina conceives one baby after another to avoid arrest. Carmine becomes so overstrained that eventually Adelina can no longer produce a medical certificate of pregnancy, and she is sent to jail. The local citizens raise the money for her fine, however, and her sentence is commuted by the president of Italy.
Anna, the elegant wife of a prominent Milan industrialist, is having an affair with Renzo, a struggling young writer. One day she allows him to drive her expensive convertible which he wrecks in order to avoid hitting a small boy. Infuriated by the damage to her car and by Renzo's inability to handle the situation, Anna accepts a ride from an unattractive but obviously wealthy stranger.
Shortly before the return of her lover Rusconi, Mara, a beautiful prostitute in Rome, discovers that a seminary student who is visiting his grandparents next door has fallen in love with her. Although attracted by the purity of the young man, Mara resists his advances. Eventually his grandmother accuses Mara of attempting to corrupt her grandson and announces that he plans to join the Foreign Legion. Mara confronts the young man, tells him the truth about herself, and persuades him to return to the seminary. In an offering to God for the soul of the young man, Mara makes a vow of chastity for one week, thereby leaving Rusconi sexually frustrated.